If you're ever in need of a good laugh, open a science magazine from the 1950's and look at their predictions for the cars of the future. It was the dawn of the space age, and writers breathlessly promised everything from the ever-elusive flying car to cars that would be propelled by atomic energy. More than half a century has passed since then. The technology in our cars is in some ways more pedestrian, but in other ways shockingly advanced. After all, it's not long ago that the processing power of the Kia UVO eServices infotainment system by itself would have taken a computer the size of your living room.
Those writers of the 1950s would've had a hard time making sense of some of the technology in a new Kia car, and we understand that you probably feel that way yourself sometimes. That's okay - our dealers at Grieco Kia in Johnston are here to help.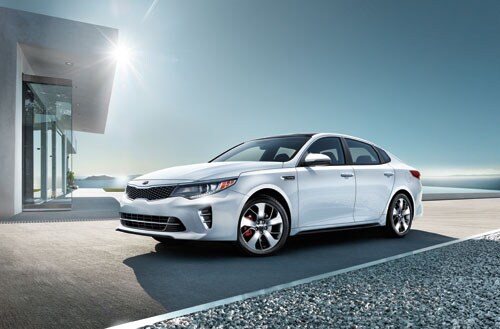 Kia Safety Features *
The days when safety features began and ended with seat belts are long gone. Now, most of us even take airbags for granted. Kia technology extends to the many advanced safety features engineered into their vehicles.
Select Kia vehicles can be equipped with the Rear Parking Assist System (RPAS). Your Kia uses sonar to detect obstacles behind it and provides an audible warning if there's anything in your path. The Surround View Monitor (SVM) comes in handy when parallel parking or otherwise maneuvering in tight spots. It gives the driver a nearly 360-degree view from four cameras, increasing both visibility and safety.
Two other systems -- Blind Spot Detection and the Forward Collision Warning System (FCWS) -- rely on radar to detect objects you might otherwise have missed, and both can keep you safe in the event that you become distracted. The Forward Collision Warning System can work in tandem with Autonomous Emergency Braking (AEB), which applies the brakes to either avoid or mitigate a frontal collision.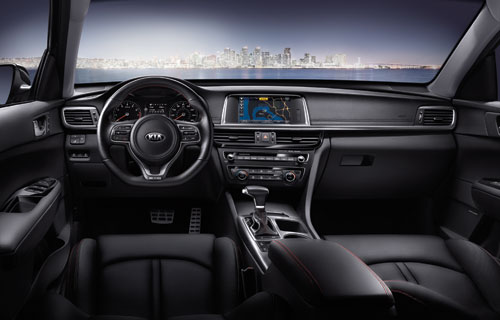 Kia Entertainment and Convenience Features *
When's the last time you counted the cup holders in a car, or even bothered to notice where they were? Your Kia has a spot for your coffee, but it also has spots for the other important stuff that's integrated into your day-to-day life.
BLUETOOTH® Wireless Technology provides hands-free connectivity to compatible devices. It works through controls mounted on the steering wheel so your hands stay on the wheel and your eyes stay on traffic. You can get even more out of your smartphone by using it with UVO eServices and Android Auto. Each gives you new ways to leverage your infotainment display and the power of your smart device to control music, navigation, and a number of apps, but lets you do it in a way that prevents distracted driving.
The flying car is probably as far off today as it was in 1956. That seems like a disappointment until you stop to realize that most people can't even handle a simple turn signal when they're pulling into the passing lane. If our cars are still stubbornly earthbound, the technology in them can seem out of this world. After all, you can talk to your car and it talks back, letting you know where the next gas station is, how to find the closest sushi place, or how to get to our Kia dealership near Attleboro. It can even help you get back home when you've lost your way. To find out more about the technology in the latest Kia cars, including the 2016 Kia Sorento and the 2016 Kia Forte, visit the Grieco Kia showroom at 1890 Hartford Ave in Johnston, RI, today.
*Not all features available on all trim levels