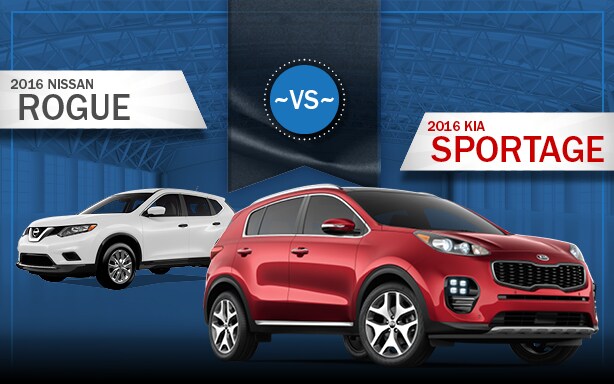 As you might imagine, we get a lot of questions from the drivers we serve in Woonsocket about buying a new Kia vehicle here at Grieco Kia. We could very easily boil all of them down to one simple question that you're really asking: why this vehicle and not some other? That's especially the case when someone's asking us about the merits of a Kia model like the 2017 Kia Sportage compared to the Nissan Rogue. While we'll admit to a bit of a bias -- we are a Kia dealership, after all -- we feel there are some compelling reasons to choose the Kia Sportage over the Nissan Rogue. 

2017 Kia Sportage

2017 Kia Sportage 
The 2017 Kia Sportage is available in the base Kia Sportage LX, Kia Sportage EX, and the Kia Sportage SX Turbo. The LX and EX trims have an 180 horsepower 2.4-liter inline four-cylinder engine, while a turbocharged 260 horsepower four-cylinder engine powers the SX Turbo. A Sportmatic® six-speed automatic transmission with overdrive and front-wheel drive is standard on all trims, with Dynamax AWD optional.
2016 Nissan Rogue
Like the Kia Sportage, the 2016 Nissan Rogue comes in three trim levels and seats five as standard. However, all trim levels of the Rogue have the same 170 horsepower 2.5-liter engine. Not only is that 10 horsepower less than the default inline four in the Kia Sportage, it's a whopping 90 horsepower less than delivered by the turbo four in the Kia Sportage SX. The Nissan Rogue is also larger, which is a double-edged sword; it slightly edges the Kia Sportage in passenger and cargo volume, but that comes at the cost of a higher curb weight (3,408 to 3,618 pounds, compared to a 3,280 to 3,585lb range for the Kia Sportage). Remember as well that the larger, heavier Nissan rides on a lower-horsepower engine than either option available in the Kia. That also means slower acceleration (for example, the Nissan Rogue SL AWD clocks a 9.3 second zero to 60 mph, two seconds slower on average than the 2016 Kia Sportage).
The Verdict
The Nissan Rogue performs respectably, but we'd give the edge to the 2017 Kia Sportage in terms of real-world performance. In some ways, the two have very similar specifications (especially in terms of standard and optional safety features). However, the Nissan Rogue, having entered its second generation in 2013 for the 2014 model year, is due for a significant refresh. In contrast, the new Kia Sportage enters a new generation with the 2017 model. That gives drivers the potential of two great choices at many Kia dealers, since the 2016 Kia Sportage was a formidable contender, and the 2017 Kia Sportage ups the ante just a bit further. See the brand new 2017 Kia Sportage at Grieco Kia at 1890 Hartford Ave in Johnston, RI. Take the trip from Woonsocket today!